May 29, 2003
It's really muggy here. Not hot -- just humid, so I feel sticky all the time. When I can, I stay in front of an electric fan (something I haven't encountered in a long time), or Ferdie takes me out to the mall where it's air conditioned. When he offered to heat up water for me to take a bath, I felt like laughing. I savored the cold water in the bathroom!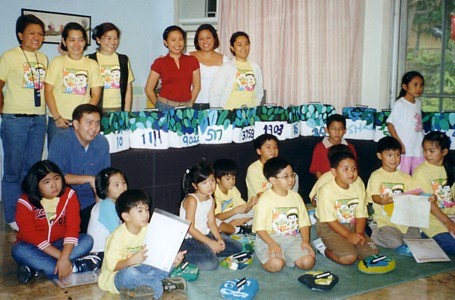 Kirt (in blue) with his fellow teachers and his students.
Yesterday, Ferdie and Edwin picked me up the airport. It was raining. Got home, unpacked, called Joy. Then Ferdie took me to the mall, so I could buy shorts, shampoo, conditioner, soap, and slippers. We watched Bruce Almighty which was pretty funny.

It's taking some time for me to get used to staying in a house full of other people. You know I'm used to having my own room and being like the last one to fall asleep. I'm used to checking my mail and then reading a book before sleeping. I'm used to sharing the bathroom only with Joy and not worrying I'll wake her up if I have to go in the middle of the night.

Jet lag's not too bad. I was able to sleep through the night and wake up at seven in the morning. The only thing out of whack is my digestion. I never really feel hungry because my stomach never feels like it's the right time to eat. I'm drinking a lot of water and eating pretty small portions, so I think the weight loss will be inevitable.
I went with Tita Noi, Kirt, and Mheryll (Kirt's co-teacher) to ICBB. Ferdie followed later. The school looked very nice. Each room was decorated with a cartoon theme, like Warner Bros for one, Cartoon Network for another, and Disney for yet another. I met Liaa, another teacher. She immediately put me at ease. She realized that I was Ferdie's girlfriend who sends all the Smallville videos. We discovered that we shared a love of books as well.
Me with Tita Noi and Kirt.
It was the culmination of a summer art workshop. I helped set up the refreshment table and then assisted Liaa, the emcee, by passing out certificates to the students as she called their names.
After the program was finished, we all went to Makati. We had dinner at Gilligan's Island, where Ferdie and I shared a meal. Afterward, we went to check out the Midnight Madness sale in Glorietta. Ferdie kept texting JP and Heiress to make them jealous, bragging about the great bargains on clothes and stuff. Meanwhile, I was looking for a particular piece of shell jewelry that Joy wanted, but I didn't have any luck.
Met up with Liza there. She's still the same old Liza. We had a fun time chatting about everyone, and I enjoyed hearing her in verbal combat with Ferdie. Tomorrow we have plans to meet again, this time with Romar, Valerie, Hubert, Joanne, etc. at a Starbucks in Makati.