First of all, let me say that I can only give my point of view on this webpage. I don't know how Edalynn felt or what went through her head the night of her eighteenth birthday. The following accounts are my own as I experienced the planning and execution of my cousin's big night.
Although I'm sure Edalynn must have been thinking about this for a long time, actual planning for Edalynn's debut started in January. Joy went with Edalynn to scout for locations and, once they found the right one, helped convince Edalynn's parents to spring for the Grand Ballroom instead of settling for the smaller room. It was also this time when Edalynn tasked me to choreograph her cotillion. Whew! That was tough. We could barely settle on the music before we had to come up with some sort of steps. I was practically begging Edalynn to keep it to only one dance, but she really wanted two, so it was agreed that I would choreograph and train the cotillion waltz while she would take care of the finale, the jive.
One of many long practice sessions.
Practices were at our house every Sunday, around four. More specifically, the practices were on our driveway, the only place that could accommodate nine couples. Now, mind you, I've never trained a dance before, and I didn't know what the hell I was doing. Every so often I would screw up, apologize, and try to make things better. Fortunately, Edalynn had a good group of dancers who got the steps down pat in no time at all. I think the most difficult part was the timing, as the tempo wasn't consistent throughout.
Edalynn provided dinner at every practice. We all worried we wouldn't fit into our gowns but figured all the dancing would keep the weight off.
A week for the big night, there was a practice at the club itself. I was able to get the layout of the place and talk to Auntie Toto and Uncle Edward about such things as where the flower girls would stand, where the candles would be, and so on. My aunts and uncles also helped to polish the waltz. Most of the time was spent working on the jive finale. At eight-thirty, we had dinner in the parking lot.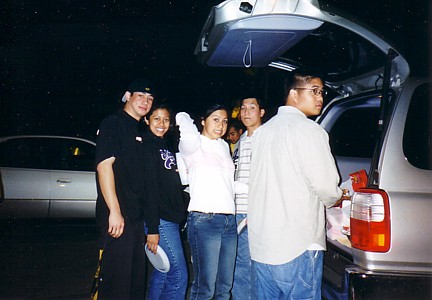 An SUV picnic.
Then the unthinkable happened. Carren, one of Edalynn's court members, wrenched her knee while dancing the jive during the second-to-last practice. As soon as I got home and heard the news, I promptly started going nuts. I paced, ranting and raving, worried terribly about what to do next.
It was decided that, since I could fit into Carren's gown and knew the choreography, I would take her place in the waltz while another of Edalynn's friends would substitute in the jive. Unfortunately, I didn't get a hold of Carren's gown until the day of the debut. Carren, who is a bit taller than I am, didn't want the gown to be cut, which meant that some very fast folding and basting was required. Let me not forget to mention that the gown consisted of three layers -- the tulle, the gown skirt, and a sheer overskirt. We running-stitched like mad.
I had to leave Grandma to finish the last layer of the gown so Joy and I could have our hair done. I knew all of the girls in the court had French twists, so I got the same thing except with curly tendrils around my face. I hoped it would slim my face down a little. At this point, I was ready to try anything! Joy copied a hairdo from a magazine picture. It was like a wild upswept 'do with glittery clips. While Joy was having her hair done, I started singing videoke. I managed to get in three songs before Joy was finished. It was gratifying to hear the appreciative remarks from the other women in the salon.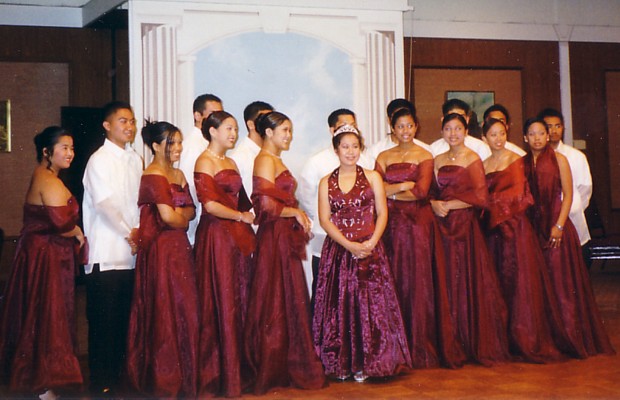 Edalynn and her royal court.
Back at home, it was a mad rush to get ready. Joy yanked and pulled at the back of my newly-altered gown while I tugged on the hooks of her corset. We slapped on some makeup. I asked Manong Paolo to fasten my black high heels because my constricting dress prevented me from bending over. We scrambled to gather the things we needed, like our gifts, the script, the stereo (just in case), matches, the camera, and extra film.

Finally, Joy and I went ahead, leaving the adults to catch up with us at the club. It was a little hard to fit my skirt in the driver's seat; it was so full with the tulle and lining. I swear, my stomach had elephants jumping on trampolines. We got the the club, and photo sessions were going on in front of the cake. We had no professional photographer -- just a bunch of amateur enthusiasts with cameras. We weren't able to get shots of every single major event. Mostly the pics are of groups shots from before the program started and of the first half of the program. Joy and I were too busy after dinner to think about taking pictures.
The motif was burgundy and silver. The girls of the cotillion court wore matching burgundy off-the-shoulder gowns. Edalynn's gown was also burgundy, but hers was more heavily beaded and was cut halter-style. The guys wore matching barongs ordered from the Philippines.
The debutante and her escort.
Joy started the night off by reading Edalynn's bio that was printed in the program. Then she introduced the couples of the cotillion court. The guys were on one side of the room, while the girls were on the other. Each guy would might each girl in the center of the stage, walk to the front together, fasten the girl's corsage, bow/curtsy, and move to their designated place. Then Jay escorted Elton, and Edalynn entered with her parents.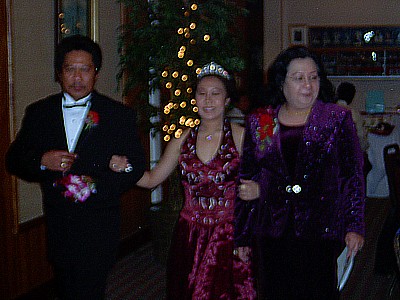 Entrance of the Debutante
Auntie Toto gave an emotional speech that had us almost in tears. A touching mother-daughter moment. Then Mom led the invocation, which then segued into dinner.
The food was good. First, we had salad with Ranch dressing. I also enjoyed the sourdough bread with butter. Then the main course. We had been given the choice of chicken or beef. On the side were mashed potatoes and peas.

I saw Carren and went over to her. We realized that it was all my fault that she got hurt. During a practice once, I mentioned to her that it would really suck if something happened to one of the dancers or if one of them got sick. I must have jinxed her or something! Now Carren will have to be on crutches for a week or two.
Mia wishing Edalynn a Hawaiian happy birthday.
Leah, Mia, and some of the guys in a hiphop number.
Edalynn's friends danced for her to "Don't Mess With My Man" by Nivea, Brian & Brandon Casey. And then Mia did her Hawaiian number for her.
What followed was the Candlelighting Ceremony. Robert held the mother candle while Elton passed out candles to the girls. Now...here's where I messed up. I was reading from the list of names that Edalynn and I had worked on last week. I didn't know that she had changed some names and that the new list was on the official program. I thought the program had the same list I did. So...I ended up leaving one of Edalynn's friends out by accident. God, I hope she forgives me.
Edalynn's parents fed her some cake, and then she returned the favor. Then Uncle Edward had everyone toast Edalynn with champagne/apple cider.
The father-daughter dance was next, followed by the Rose Ceremony. Vanessa, Gic-Gic, and Erika passed out the roses to the men whose names I called. Edalynn wanted me to speed up with the names, so I would call them out every ten seconds or so because it would take half a minute for each guy to get a rose and then reach her. Of course, her last dance was with Jay.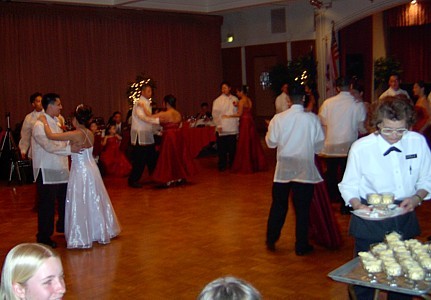 The cotillion court dancing the waltz.
The cotillion went off without a hitch, as far as I could tell. It was hard to keep track while I busy counting steps. We did kind of lose it at the end. The original plan was to wait for the next song on the CD to play, and then we would exit in two straight lines, but then we were so eager to leave the dance floor that the grand exit just went to hell. I don't know if anyone noticed.
Since we needed to kill time, Elton sang "How Am I Supposed to Live Without You." There was a little monitor showing the videoke words for him to sing with. He did a fairly good job, actually. I didn't know he could carry a tune.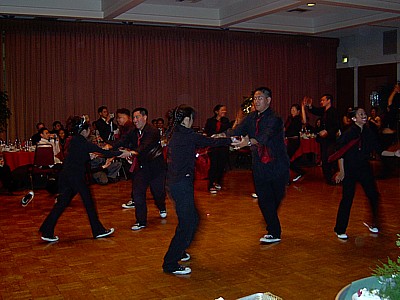 The jive.
Just when I was about to kill more time by singing Madonna's "I'll Remember," the court showed up all dressed in the jive costumes, saving me from having to further make a spectacle of myself. The jive went well. No one got hurt, and everyone was pretty much in unison. Lotta energy there.
What was supposed to be a serenade transformed into mayhem. Since Jay didn't have his music, it was decided he would sing "Lean On Me" with Mia and EJ. Here I thought we'd have a nice little trio up on the stage. Next thing you know, there was a mad rush and practically everyone from Edalynn's circle of friends was up on that stage. At first, Edalynn simply watched from the dance floor, but then she went onstage to join then before the song ended.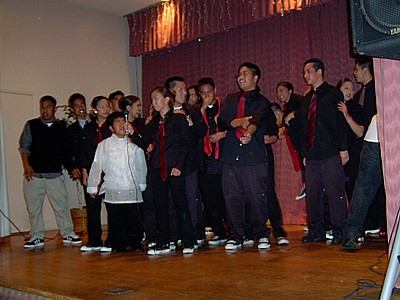 Lean on me...when you're not strong....
After the tribute, Edalynn gave her thank-you speech, acknowledging everyone who helped with the debut and supported it. Then it was time for the disco.

My feet ached, but I wanted to stay on the dance floor as long as possible to make it look as if the dance floor was occupied. I can't stand to see an empty dance floor. Mostly I danced with Joy, Erika, and Gic-Gic. When my feet couldn't stand it anymore, I switched shoes with Mom.
Tearing up the dance floor.
Joy has a thing for Midori Sours. I ordered one from the bar when I saw how much Joy was enjoying hers. It pretty good, though I prefer sweet drinks to sour. If I hadn't been the designated driver, I would have ordered a Sex on the Beach as well.

The party broke up around ten-thirty. Joy and I went home and started pulling hairpins out.

I hope Edalynn enjoyed herself. The program didn't flow quite as smoothly as I'd hoped, but I don't see how it could have gone any other way.